One of my all-time favorite stock character designs is the cute nurse. Often wearing her trademark (if dated) white cap and dress, or a variation upon it, sometimes wielding a comically oversized medical implement of some sort...yeah, you've seen her before. She truly needs no introduction.
I like to draw cute nurses, and I semi-recently started collecting nurse related knick-knacks, too! This page serves to document some of that stuff.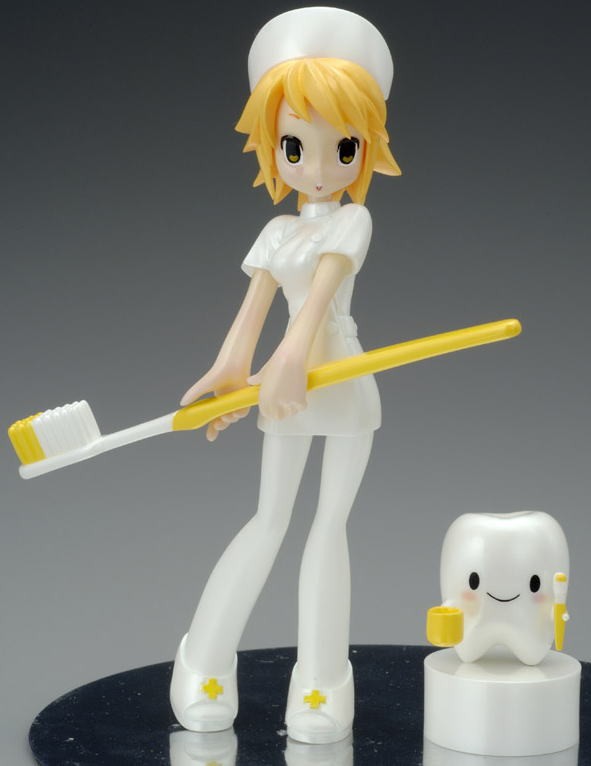 Bad Dental Hygienist Shikayama-chan - White (Yamato)
Shikayama-chan is an original character by Mago, one of the character designers for Space Patrol Luluco! This figure was originally released in 2004 as a garage kit before being picked up for mass production in 2007 by Yamato (this is the version I have — I am not talented enough to paint garage kits).
According to her (Google translated) character introduction, Shikayama is 'always unmotivated, grumpy, and has a bad attitude' — I suppose that's what makes her the Bad Dental Hygienist. Her little tooth buddy is named Nyuushi-chan, 'nyuushi' meaning "baby tooth."
For a figure that's only three years younger than I am, she's held up wonderfully over the years: I received her in 2022 secondhand with barely any flaws. As of right now, she's one of the crown jewels of my figure collection, and I don't see that changing soon. I love her. Like, thiiiiiiiiiis much.
---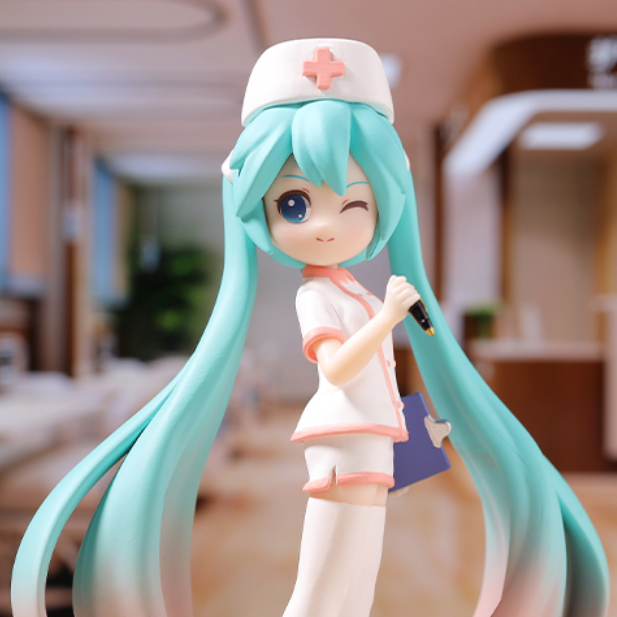 POP MART x Hatsune Miku Career Series - Nurse
I've always admired POP MART's work, so as soon as I saw this figure I knew I had to have it. It took her a pretty long time to get here from China, but it was totally worth it. She's absolutely adorable. The pen she was holding came off in shipping, so I had to glue it back on :(
---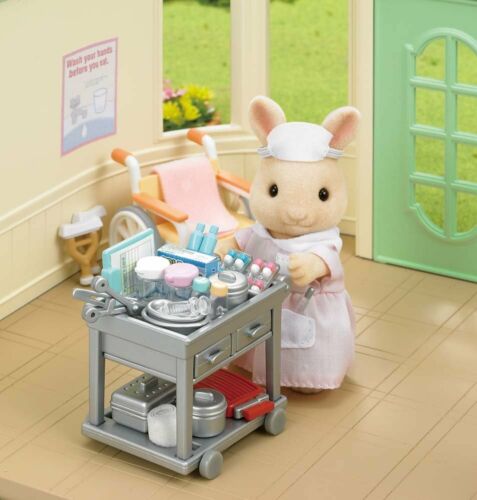 Calico Critters/Sylvanian Families - Country Nurse Set
I love rabbits. I love nurses. I love Calico Critters. I saw this. I floored it.
Well, I didn't exactly floor it per se — I definitely wanted the set as soon as I discovered it, but it took me a while to actually find it at a price I was happy with. Eventually i ended up getting her for around $45, which is good compared to the $60 and $70 I see it for on EBay.
As much as I love this set, it's currently not being displayed anywhere. I can't actually decide where I want to put her: I have a Calico Critters display table, but there's not really a place for her in my established scene. I'm tempted to put her with the other nurses (once I actually have enough to give them their own space), but wouldn't she get sad separated from her bunny family? Even still, anything must be better than sitting in her box all day...Truly a conundrum for the ages.
---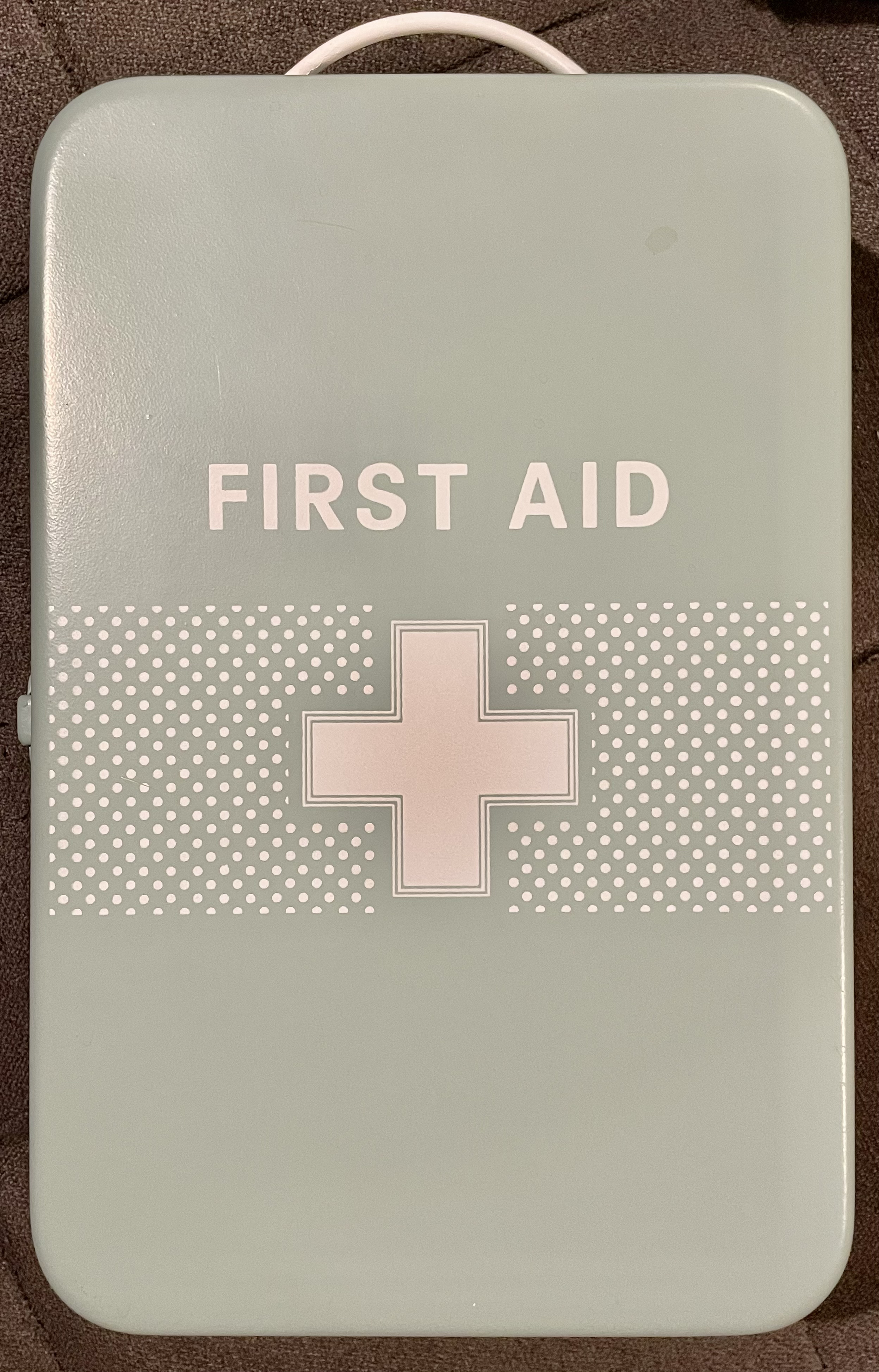 First Aid Trinket Box (I know next to nothing about this)
I got this box at TJ Maxx a few years ago because I felt a sort of cute nurse energy from it. It's a pretty large and sturdy ceramic(?) trinket box with a handle and a latch on the side. Unfortunately there's no visible maker info or any sort of identifying information on the box itself, and being from an outlet store like TJ Maxx, I doubt I'll ever learn who made it.
Regardless, it's very cute and functional for what it is (given you aren't in need of an actual first aid kit). Currently, I use it as a storage case for my kandi jewelry, but I might just incorporate it into a display shelf one day.





---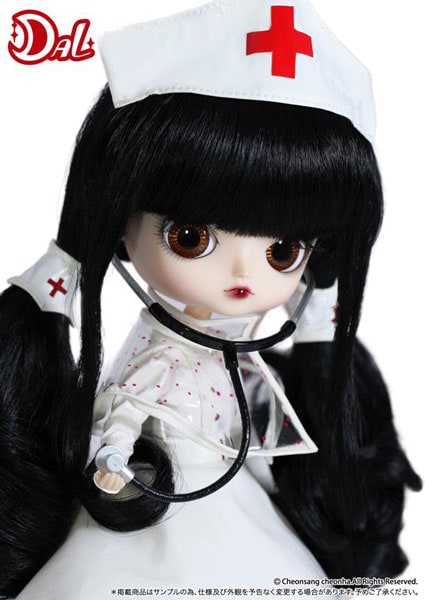 DAL Natalie by Groove
Natalie was, in an unexpected way, my first Groove doll (I ordered Pullip Rouge Ligne Mayle before her, but she arrived a bit late). I got her on EBay for a really good price of $130, which is half what she usually goes for. She was listed as brand new, and while that was technically correct (everything was sealed), she had clearly been in storage for a long time and the plastic window on her box had fallen in, so spider webs and other debris had nested there.
I got her out of the box and cleaned up, though, and she is gorgeous. Her outfit is still totally shiny and white, and her makeup is absolutely wonderful. I love the creepy, mysterious vibe she has.








---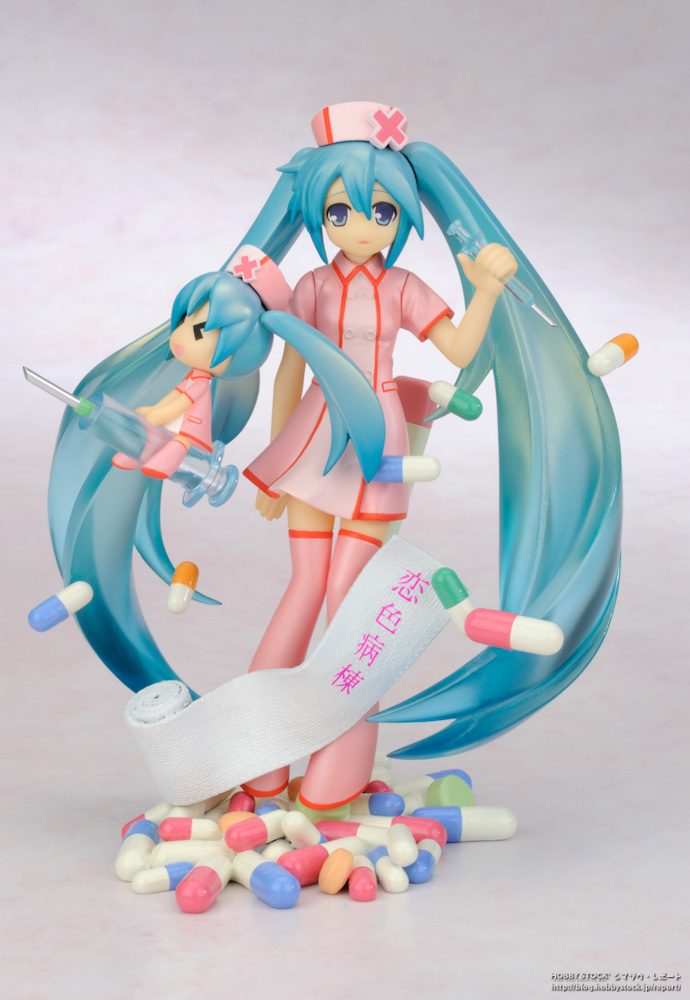 Hobby Stock Mikumo #01 - Love-Colored Ward
Yep, no doubt you've seen this one in a couple TikTok videos before. It's the animecore collector's darling and cult classic cute nurse, That Love Ward Miku.
Every day I regret not getting her before she magically became $200 overnight. OSTER Project, I have failed you.
There's a lot to like about this figure. She's small, but detailed, and I love the capsule pills and mini-Miku.
---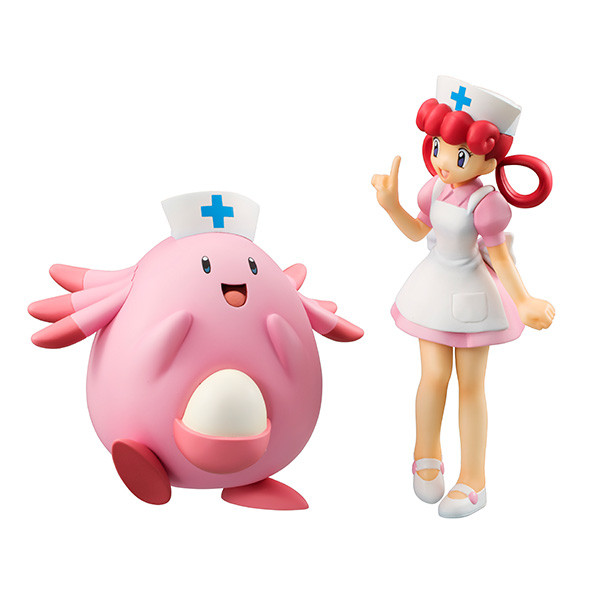 MegaHouse G.E.M Series - Nurse Joy and Chansey
While my first brush with MegaHouse was as the main producer of merchandise for Robonimal Panda-Z, an obscure children's anime I'm a fan of (one which, completely unrelated, features a robot nurse rabbit character), they produce a whole lot of licensed stuff at both ends of the price scale. In fact, if you're a decently avid figure collector, there's a good chance you own something of theirs.
Anyway, this set was released in 2016 for 5800 yen aaaaand she's $300 now. I suppose there's a pattern to this list. Same goes for most of the Nurse Joy figures that are out there, now that I mention it.
---